LACHANCE VlV Asia 2017, come back with victorious!

龙昌动保2017泰国VlV,与时俱进再创辉煌,凯旋!
LACHANCE VlV Asia 2017, come back victorious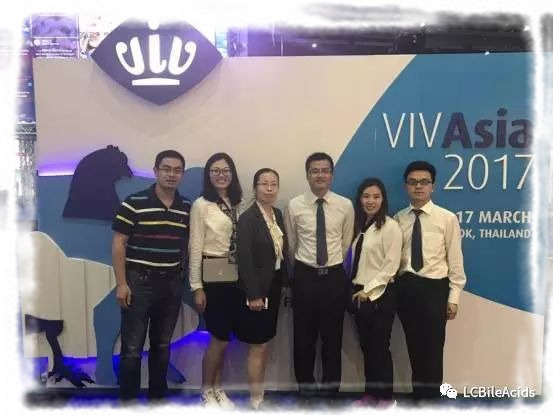 3.17日,2017年国际集约化畜牧展览会已经在泰国曼谷BITEC展览中心落下帷幕,世界各地的知名企业齐聚于此,为人类食品安全和动物福利尽一份力量。
2017 VIV Asia exhibition ends at Bitec Bangkok Exhibition Center on March.17,2017. Many famous animal health and nutrition enterprises meet together from all over the world, and worked for human food safety and animal benefits.
此次展会,龙昌动保携胆汁酸(乳能)与杜仲叶提取物(幸福100)盛装参展,在众多非常有竞争力的产品中脱颖而出。给全球畜牧业开辟了一片新天地。更是duang在了世界人民的心中。
During this exhibition, two innovative feed additives bile acids(Runeon) and Eucommua plant extract (HPNSFEED) from Shandong Lachance are very attractive and commanded big attention of participants and experts from the feed and animal health industry, which broke new grand of worldwide livestock industry and have a strong impression to participants.
为期三天的展会,龙昌展位新老客户源源不断的前来探讨产品功效,讲述使用效果,对胆汁酸在畜禽和水产上的使用效果表示了高度的肯定。针对目前全球的食品安全问题,可以全面替代饲料中抗生素的杜仲叶提取物引起了诸多国家的高度重视,注册也提上了最紧急的日程。这是对龙昌致力于绿色安全环保的产品研发和销售的肯定。
In three days, many new and old clients visited Shandong Lachance to discuss the efficiency of bile acids, share the effect and performance of bile acids, and showed their satisfaction and about the effect of bile acids on aquaculture and livestock. Moreover, based on the safety food issue all over the wold, the replacement of antibiotic by Eucommua plant extract (HPNSFEED) attracted more attention by many players from different countries and how to register is on the top of agenda. Shandong lachance wins the high affirmation of the livestock industry with dedicating in producing and selling on green safe and environment-friendly feed additives.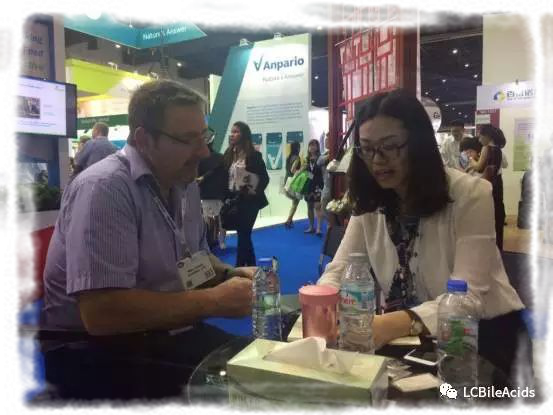 与英国客户商榷合作模式 (England clients here )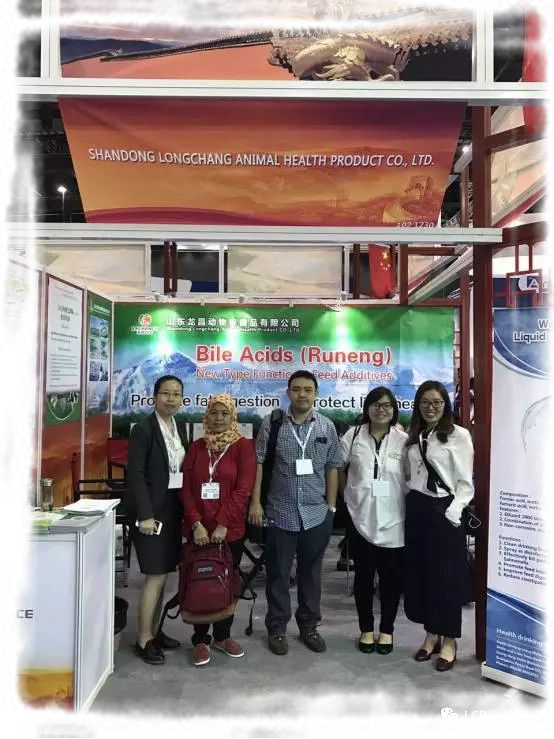 与马来西亚客户代表会见( Clients from Malaysia )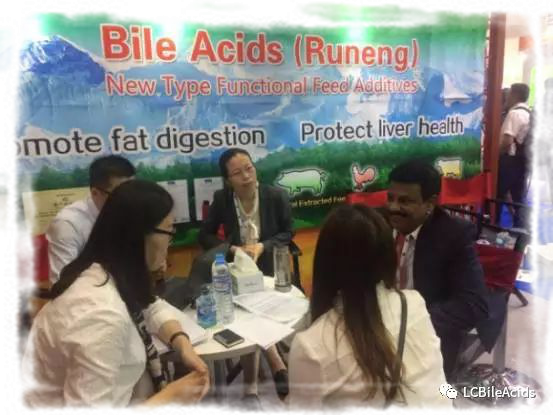 与印度客户商榷合作模式 (Clients from India )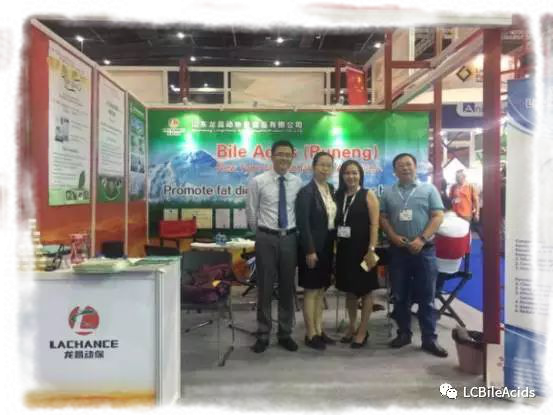 与越南客户代表会见( Clients from Vietnam )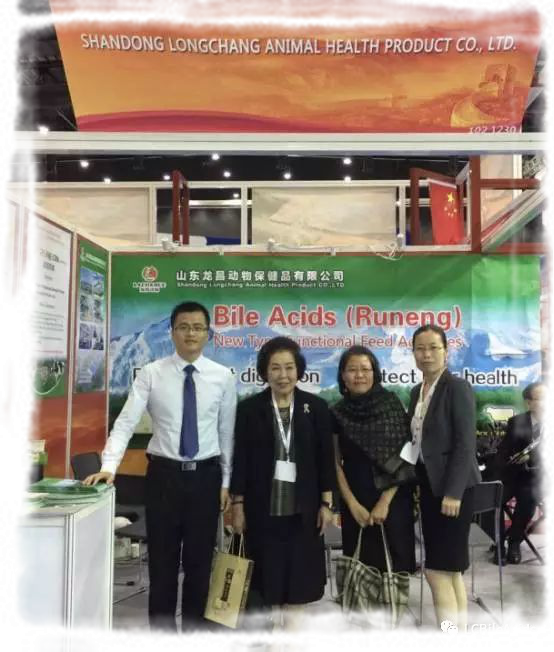 与越南孔敬大学JAYAMA教授会见 ( Dr Jayama from Khon Kaen University of Thailand )
龙昌动保,天然原料提取,专注脂肪营养。作为胆汁酸国家标准制定者,经过13年的沉淀,龙昌胆汁酸拥有六大发明专利,在畜禽和水产饲料中广泛应用,已经为饲料行业节约成本逾十亿元。于今,"龙昌胆汁酸"已成为提高脂肪消化吸收的代表,得到了国内外客户的高度认可。已与国内诸多大型饲料企业集团如新希望六和集团、禾丰集团、通威集团、海大集团、大北农集团、中粮集团等建立了良好的战略合作关系。同时,产品已经出口菲律宾、马来西亚、叙利亚、巴基斯坦、厄瓜多尔、泰国、越南、比利时等国家。龙昌胆汁酸一直被模仿从未被超越。杜仲叶提取物经过三年的研发和推广,已经在中粮肉食、山东金锣、河北三融、山西龙海、山东春雪等养殖一条龙企业广泛应用,保证了肉食品的健康和安全。
As one of the biggest professional manufacturer of feed additives , Lachance Group insist on natural feed additives , provide you one better solution on fatty acids nutrition. With 13 years development , RUNEON ( feed bile acids ) has been widely used in poultry / swine and aquatic feed , successfully help the clients lower feed cost which can be reached more than 1 billion RMB. Lachance is the unique lawful manufacturer of feed bile acids in China , which has been approved as New type feed additives by the Ministry Department of Agriculture , we own 6 patents on bile acids from the product flowchart to the extraction equipment. Now , bile acids has been recognized as the necessary ingredients for fat digestion and absorption promoter, and Runeon earned great reputation by the clients both in domestic and overseas. Lachance group has successfully cooperate with the leader feed millers in China , like NEW HOPE GROUP , WELLHOPE GROUP , TONGWEI GROUP , HAIDA GROUP , DBN, COFCO etc, what's more , Runeon also has been exported to Philippines, Malaysia , Syria, Pakistan, Ecuador ,Thailand , Vietnam and Belgium already. On 2009, we promote one natural plant extracts --HPNSFEED ,which can be used on replace part of antibiotics and enhance immunity , market revert from COFCO, Shandong Jinluo ,Heibei Sanrong , Shanxi Longhai and Shandong Chunxue group shows that adding HPNSFEED is one possible and effective solution for antibiotic-free farms .
龙昌动保作为绿色添加剂的专业生产厂家,一直为中国的饲料安全贡献着自己的一份力量,龙昌人把"研制绿色、安全、高效的添加剂,为全球饲料行业服务"作为企业的使命和追求,赢得客户的信任和市场销量的稳步提升。相信在龙昌人的不懈努力下,龙昌动保定会引领绿色添加剂行业,为食品安全、人类健康和动物福利贡献自己的力量!
Lachance develops fast and earned good reputation from more and more clients in recently years with the company philosophy --concentrate on green, safety and high efficiency feed additives and work for global feed nutrition and animal health . We have faith that Lachance group must can serve more and more feed millers with the unique product value on feed nutrition , food safety and animal welfare!