Lachance 2018 Global Exhibition--- Serve the feed, Embrace the world!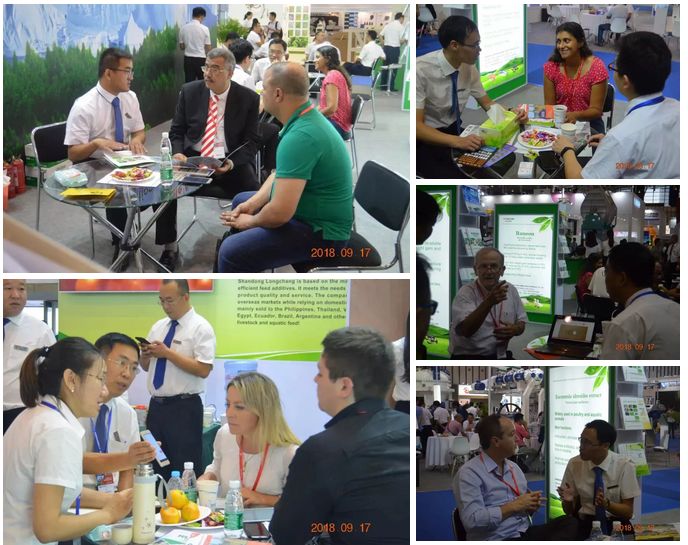 Shandong Longchang Animal Health Products Co., Ltd(Lachance Group) was established in 2004 and is a professional enterprise engaged in plant extracts. Longchang focus on the product of bile acids and approved by the Ministry of Agriculture for New Feed Additives Patent. After 14 years of research and development, it has been widely used in livestock, poultry, aquatic products, ruminant and pets.
In 2018, Shandong Longchang conducted in-depth communication and exchanges with local companies at well-known world exhibitions, and bile acids were further recognized by customers.
AQUA INDIA 2018 2018.02.02
In this conference, RUNEON bile acids adhering to the mission and pursuit of "developing green, safe and efficient additives to serve the global feed industry", we will benefit and innovate for the customers of the aquatic industry.
America IPPE 2018.02.05
At the invitation of the American Feed Association, Longchang came to the beautiful southern American city of Atlanta to participate in the IPPE, the world's largest professional exhibition of feed and poultry—The Atlanta International Poultry and Feed Industry Fair.
Bangladesh International Poultry Show WPSA 2018.03.07
The Bangladesh International Livestock and Poultry Show WPSA is a professional poultry trade fair established by the World Poultry Association in Bangladesh and is the largest livestock exhibition in Bangladesh. The exhibition attracted well-known manufacturers from more than ten countries and regions such as the United States, Belgium, South Korea, the Netherlands, China, Turkey, and India.
Bile acids has entered the Bangladesh market and is growing steadily.
ILDEX Vietnam 2018 2018.03.14
ILDEX Vietnam 2018, held at the SECC in Ho Chi Minh City, Vietnam, from March 14 to 16, 2018. Lachance Group and Vietnamese agents have been fortunate to be one of them.
What is even more exciting is that Dr. Li Jinbao, exchanged the technical issues of aquaculture and pigs at the meeting with Vietnamese feed companies and farmers. Explained in detail s the application of bile acids and the huge economic benefits that bile acids bring to the companies and farmers.
Brazil Poultry Fair 2018.04.13
The Brazil Poultry Fair was held at the Chapeco Cultural Center in Santa Catarina. There were about 70 exhibitors from Brazil attended this fair this year. Most of them are local poultry feed companies and feed additive distributors.
In this exhibition, bile acid was widely recognized by local feeding companies and feed additives. Reached cooperation intentions with several Brazilian companies.
Poultry Information Exchange (PIX) 2018.06.03
The 28th Australian Poultry and Livestock Exhibition-Poultry Information Exchange (PIX) 2018 was held from June 3 to June 5, 2018 at the Gold Coast International Convention and Exhibition Center (GCCEC) in Caloundra. The exhibition attracted more than 170 manufacturers, traders and agents to participate in the event. More than 8,000 professional visitors attended the event. Including broiler breeders, egg producers, processors, feed manufacturers, feed additive manufacturers and related industries such as animal health, poultry, pig industry and dairy farming equipment. The show is Australia's largest and most professional livestock and animal exhibition.
AVI Exhibition in South Africa 2018.06.12
At the invitation of the organizer of AVI Exhibition, Lachance Group participated in the event with booth - Booth No. 111. During this exhibition, our bile acids attracted the attention of many breeding enterprises, feed manufacturers and traders. Customers highly recognized the role of bile acids in improving feed energy utilization, reducing feed costs and protecting animal liver health. We also had deep communication with big local companies such as RCL, Alzu, Meadow, CBH.
Livestock Asia 2018.08.17
The Livestock Asia Exhibition was supported by Ministry for Agriculture and Agro-Based Industries. It attracted well-known livestock companies from Malaysia, Singapore and Southeast Asian countries. Also a lot of exhibitors and visitors from Japan, Italy, and the United States.
2018 VIV Asia 2018.09.17
Nanjing VIV Conference is the highest-standard reception conference during these years. Many clients from United States, Russia, Egypt, Brazil, India, Malaysia, Bangladesh, Chile, Ecuador and other countries participated in VIV and visited our plant and headquarters. Our booth gathered foreign clients from all over the world.
Agrena in Egypt 2018.10.25
Egypt's Agrena exhibition aimed at the increasing poultry and livestock industry in the Middle East and Africa. More than 200 companies including feed companies, additive companies, feed equipment companies, breeding equipment and some veterinary medical equipment companies from more than 10 countries and regions have gathered in Egypt.
Lachance bile acid came to Egypt and was favored by local companies and farmers. On the first day of the exhibition, We reached the agreement with Egypt agent on the promotion of bile acid. Also had depth cooperation intention with three local enterprises. Now more than 10 tons of bile acids are on the way to serve Egyptian market.
Fenacam in Brazil 2018.11.14
During 14th-16th of November, the 15th Brazil Aquatic Exhibition was held in Natal, a coastal city in northern of Brazil. The exhibition attracted more than 60 companies from the feed industry, additives and aqua production. Lachance participated the exhibition in line with the purpose of serving the global feed enterprises.
POULTRY INDIA 2018.11.28
POULTRY INDIA is a very important platform for companies to enter Indian market. POULTRY INDIA attracted 300 exhibitors and the number of visitors reached 30,000. The exhibition is at Hyderabad International Trade Exposition in Hyderabad International Convention and Exhibition Center with area of 21,500 square feet.
On November 28, 2018, Lachance Group attended the POULTRY INDIA exhibition in India. During the exhibition, the famous Hybiz TV station in India came to our Booth and had an exclusive interview.